Heating Solution
Electric Heaters.
Overview
Electric heaters are used to heat liquid, solids or gas by convection, conduction or radiation.
Tubular heating elements lend themselves to the manufacture of immersion heaters, industrial convectors, duct heaters, band heaters, cast heaters (cast-in), infrared panels.
To meet your industrial requirements (corrosion, temperature, size), electric heating elements are composed of copper, stainless steel, Incoloy or Inconel tubes with appropriate watt density to fit your processes. Prosympac proposes custom-made solutions suitable for installation working in ambiant temperatures or extreme environments.
Industrial electric heaters and custom heating elements
Download Factsheet | Download Datasheet
A custom-made tubular heating element consists of a resistant nickel chromium wire type 80/20 inserted into a protective tube (shield) filled with electro-melt high quality magnesia . Compacted by cold rolling, it provides excellent heat transfer. Each edge of the sheathed component consists of a non-heating area (length being defined by use) where the electrical connection is made. The electric heater is custom-made with a maximum length of 6700 mm, along with different diameters (6.5 - 8.5 - 10 - 13.5 - 16 mm) and materials (copper, stainless steel, Incoloy, Inconel). The electric heater, cold formed according to drawings, specifications or samples, is the basic component of custom moulded heated devices, screw plugs or flange plugs immersion heaters, air duct heaters and batteries, ...
It is an ideal solution to heat liquid, gas or solids.
General Information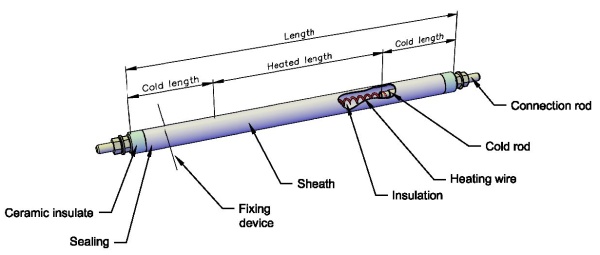 The selection of tube diameter and metallurgical grade depends on:
temperature and environment to heat
mechanical stresses (forming) and the location of the fastening (fittings, plugs, flanges) by crimping, soldering or TIG welding
electric variables (current, voltage, dielectric)
Our technical service offer the best solution for your use.
Applications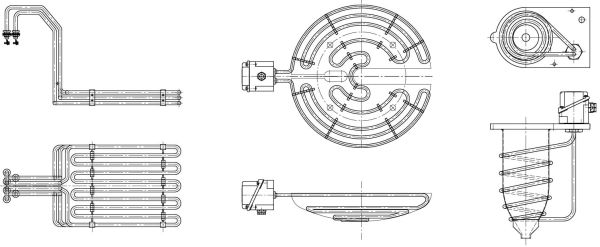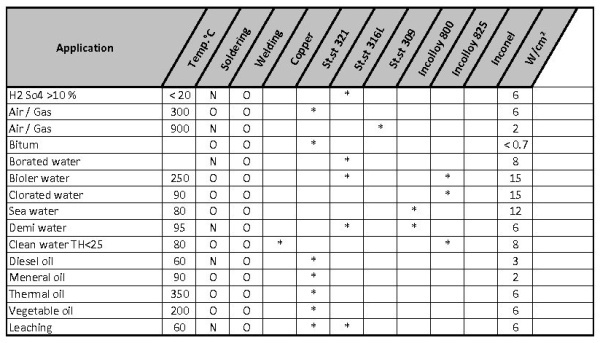 Download Factsheet | Download Datasheet
Electric heaters for distribution blocks
Download Factsheet | Download Datasheet
Electric heaters offer a perfect alternative to heat moulded plates, the heating of warm channel distribution blocks in the plasturgy industry. The manufacturing procedure specific to Prosympac can ensure temperature uniformity throughout the whole element located in the machined groove of the distribution block. Resistors and heating elements for distribution blocks can then be custom-made, following your requirements (process ...) for maximum durability.
General Information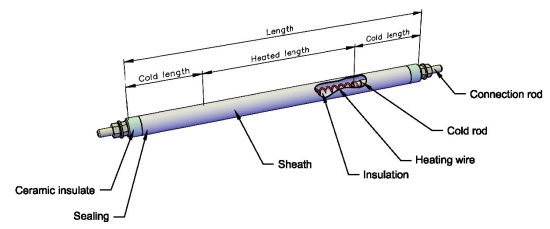 The sizes for the heater diameter are 6.5, 8.5 or 10 mm (+ - 0.1 mm),  the maximum length is of 4000 mm cold-bended according to drawings or pattern. The minimum bending radius depends on the selected diameter. A final assembly control can be performed if the pattern is provided. The watt density may vary from 2 to 8 W/cm2. The use of a cement like driver, if necessary, will improve heat transfer. The electrical connection is provided by smooth or threaded rods.
Applications
These models of electric heaters are particularly suitable for heating plastics in hot runner, hot blocks in agri-food, packaging and packing industry.
Download Factsheet | Download Datasheet
Industrial infrared heaters
Infrared heaters are especially suited for the heating of moving parts in applications such as paint curing, print drying or sterilization. Sheathed infrared heating elements heated at a temperature of 750 ° C to 900 ° C emit in the spectrum of wavelengths between 2.47 μm to 2.82 μm.
Straight or custom formed, the infrared heaters can be mounted in front of a reflector with high reflective power.
These robust infrared heaters can be used in all positions and in all environments: hot, humid or dusty.
General Information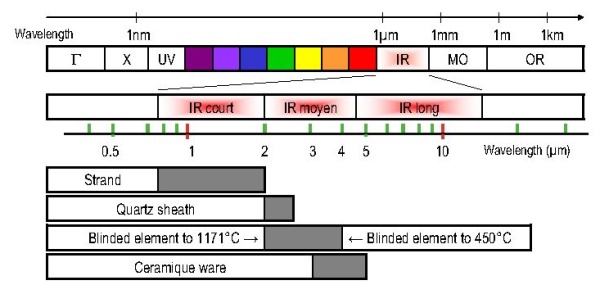 Sheathed heating element is particularly suited for "any application'' needing radiation ranging from 2.4 to 2.8 μm.
Applications
Agribusiness
Buildings and public work
Textile industries
Cooking, drying or sterilization